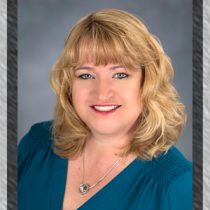 A customer service focused realtor, Sheryl Hunter is dedicated to finding the perfect home that fits your needs! Communication is key, and she received her Bachelor's Degree in Communications from the University of Akron, OH in 1996. She began her role in the real estate industry by working her way through college for Midland Commerce Title Group in the greater Akron area and learning the ropes in real estate sales as a realtor assistant, and obtained her license and REALTOR® designation in 2012.
Sheryl has earned her e-PRO® designation from the National Association of REALTORS® in order to increase her know-how of efficient use of technology to increase productivity and further market her clients' listings. She received her certification as an Earth Advantage Agent, gaining more knowledge about saving money and energy, as well as options available to buyers and sellers to make their homes more sustainable and efficient. She is Home At Last™ Certified through Nevada Rural Housing Authority to help her clients navigate the system of down payment assistance programs available to them. Sheryl has served on the Pahrump Real Estate Advisory Council as a Board Member since 2015, connecting with fellow REALTORS® and helping to advance the community contribution of the group.
She is the mother of a handsome boy, and lover of cats and dogs. She enjoys golfing, traveling, learning new gadgets and technology, volunteering in the classroom, and reading. She was born and raised in Cuyahoga Falls, OH and moved to Nevada in 1999, coming to Pahrump in 2002. Her favorite part about selling real estate is the connections she gets to make with people from all over and finding ways to complete their home buying journey!
---
Contact Details
---
Send a Message